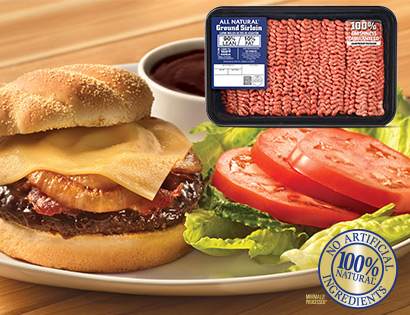 All Natural 90% Lean Ground Sirloin
Description
Made exclusively from top quality sirloin meat. A leaner alternative to other ground beef choices.
All-natural, no artificial ingredients, minimally processed
No artificial preservatives or dyes
Fresh, never frozen
USDA inspected
Please note retail varies per store. Check in store for details.
Tips
BEEF TIPS 101
To avoid cross-contamination and prevent food-borne illnesses, follow these easy st
eps:
Wash hands well in hot, soapy water before handling raw meat.
Keep raw meat and meat juices away from other foods.
Keep cutting boards separate from other food prep areas and serving platters.
STORAGE TIPS
Meat should always be kept cold and placed directly in the refrigerator after purchase.
Our vacuum-sealed packages can be placed directly in the freezer.
Non-vacuum-sealed packages should be wrapped in heavy-duty aluminum foil and labeled prior to freezing.