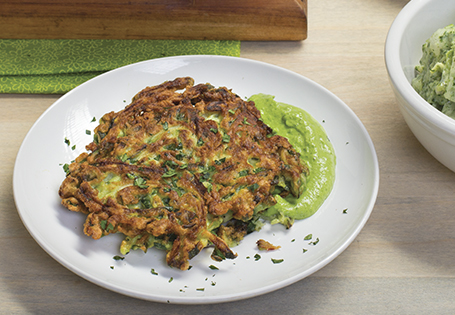 Paddy Cakes
Directions:
Using a paper towel, squeeze out all liquid from zucchini. Transfer to a medium bowl.
Combine zucchini, 1 tablespoon salt, 1/4 teaspoon pepper, scallions, green pepper, onion, parsley, garlic, onion powder, garlic powder, crushed red pepper and flour. Mix until well incorporated.
In a small bowl, whisk eggs and food coloring. Add eggs to zucchini mixture and stir to combine. Form into 6 cakes.
In a small sauté pan, heat vegetable oil over medium-high heat. Sauté cakes for 10 minutes per side, until cooked through. Reserve.
Meanwhile, in a food processor or blender, combine sour cream, lemon juice, kale, remaining 1/4 teaspoon salt and pinch of pepper. Slowly drizzle in olive oil.
Serve cakes with green sauce and enjoy!
Recipe Courtesy of Chef Audrey, ALDI Test Kitchen