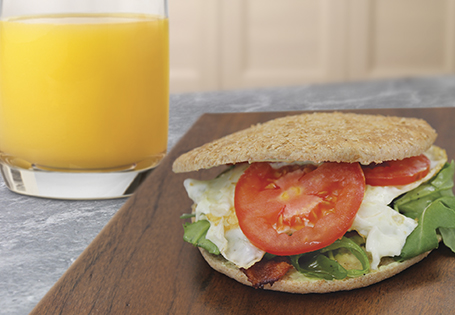 Bacon Breakfast Thin with Avocado Aioli
Directions:
For the aioli: In a medium bowl, combine all ingredients until smooth.
In a small bowl, toss arugula and 1/2 teaspoon olive oil. Season with salt and pepper. Reserve.
In a small sauté pan, heat remaining olive oil over medium heat. Cook eggs until desired doneness.
To assemble sandwich: Spread 1-2 tablespoons aioli on each side of sandwich skinny. Next, layer 2 strips of bacon on bottom portion of skinny. Place 1/4 cup of arugula on top of bacon. Layer egg on top of arugula and top with tomato slices. Top with remaining sandwich skinny.
TIP: Make aioli up to 2 days ahead of time to reduce prep time.

Recipe Courtesy of Chef Audrey, ALDI Test Kitchen