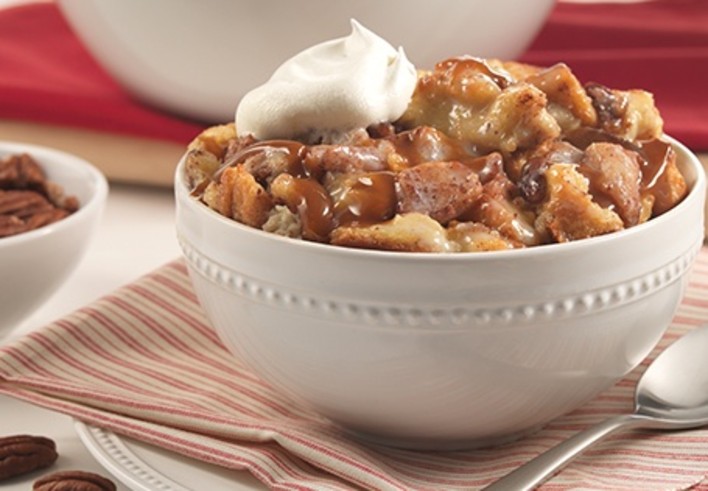 Cook Time:
4 hours, 10 minutes
Total Time:
4 hours, 25 minutes
Slow Cooker Apple Bread Pudding with Caramel Drizzle
Warm apple comfort food in a slow cooker.
Directions:
In a medium sauté pan, melt the butter. Add the apples, sauté for 5 minutes. Add the cinnamon and pecans. Sauté 1 minute, remove from heat.
In a medium bowl, whisk the eggs, heavy cream, sugar and vanilla until well combined.
Add the bread cubes and apple mixture, stir to combine. Allow to rest for 5 minutes, or until most of the liquid is absorbed. Coat a medium to large slow cooker with cooking spray. Stir mixture once more before putting in in the slow cooker.
Cook on low for 3-4 hours, until knife inserted comes out clean.
Just before serving, microwave the caramel dip at 30-second intervals until it is a pourable consistency. Drizzle 1 tablespoon of caramel dip over each portion. Top with whipped dairy topping.
Recipe Courtesy of Chef Stacey,
ALDI Test Kitchen