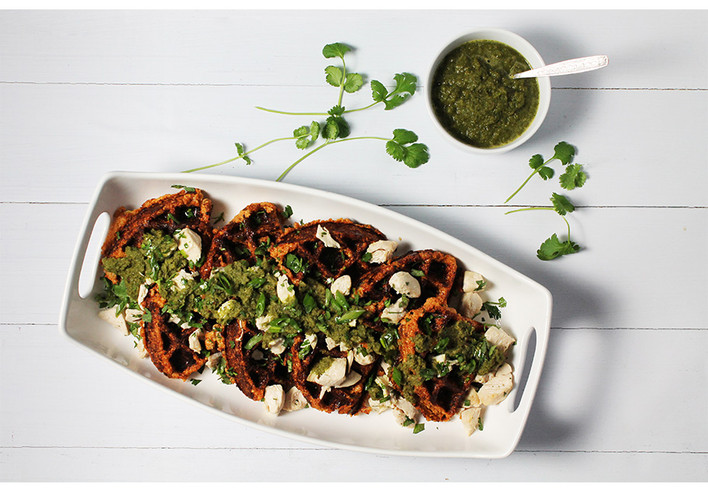 Cauliflower Waffle with Chicken and Jalapeño Sauce
A healthy spin on chicken and waffles!
Directions:
In a medium pot, combine chicken and 1 cup cilantro. Fill pot with enough water to just cover chicken. Boil for 15 minutes or until chicken is tender. Shred chicken and reserve.
Meanwhile, in a blender, combine remaining 1/4 cup cilantro, jalapenos, red onion, garlic, lime zest, lime juice and parsley to make jalapeño sauce. Blend until smooth. Reserve in small bowl.
In a food processor, pulse cauliflower until it resembles rice. In a medium bowl, combine cauliflower "rice" with scallions, egg, cumin, onion powder, paprika, oats and cheese. Mix until combined.
Turn waffle maker on high. Spray with cooking spray. Working in 1/2 cup batches, scoop batter into waffle maker and cook for 10 minutes, or until waffle is cooked through. It should pull up easily from waffle maker.
Top 1 waffle with 1/4 cup cooked chicken and drizzle 1/4 cup sauce on top of chicken. Repeat with remaining waffles. Season to taste with salt.
Recipe Courtesy of Chef Audrey, ALDI Test Kitchen
Recipes that are Better For You
These recipes are healthier options, crafted with ingredients that are naturally lower in sodium, fat or sugar than traditional recipes.