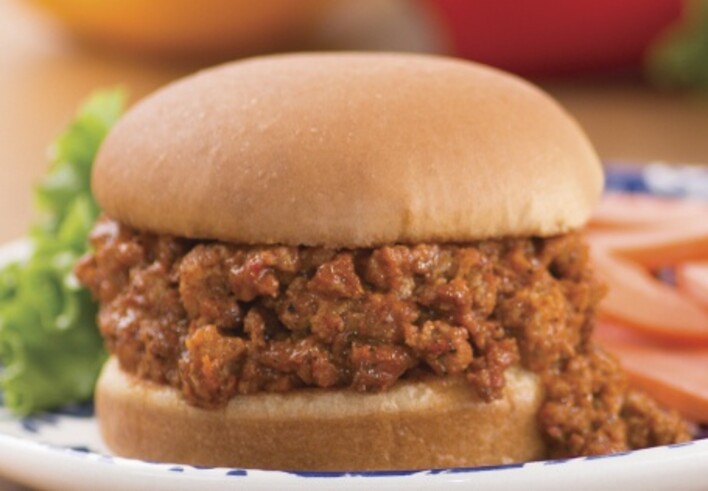 Dad's Sloppy Turkey
Dad's Sloppy Turkey is a delicious twist on the classic sloppy joe sandwich. This recipe combines lean ground turkey with a flavorful blend of vegetables and savory sauces to create a satisfying and family-friendly meal.
To start, gather all the ingredients needed for this recipe. You'll need vegetable oil, a red onion, carrot, celery, zucchini, red pepper, tomato paste, chili powder, ground cumin, garlic powder, onion powder, salt, ground black pepper, BBQ sauce, chunky marinara sauce and lean ground turkey.
Begin by heating the vegetable oil in a large sauté pan over medium heat. Add the diced onion, carrot and celery, and sauté them until they become softened, which should take around 8 minutes. Next, add the diced zucchini and red pepper to the pan, and continue cooking until they also become tender, for about 5 minutes.
Once the vegetables are cooked, it's time to add the flavor elements. Stir in the tomato paste and cook it for about 30 seconds to enhance its rich taste. Then, sprinkle in the chili powder, ground cumin, garlic powder, onion powder, iodized table salt and ground black pepper. Stir everything together, allowing the spices to become fragrant and infuse the mixture with their savory notes.
To bring all the flavors together, transfer the vegetable mixture to a blender. Add the BBQ sauce and chunky marinara sauce to the blender as well. Blend the ingredients until you achieve a smooth consistency.
Return to the sauté pan and place it over medium heat again. Add the fresh ground turkey and brown it for approximately 10 minutes, or until it is fully cooked through. Stir in the sauce mixture, bringing it to a gentle boil. Then, reduce the heat to a simmer and continue cooking for an additional 10 minutes, allowing the flavors to meld together.
Now that Dad's Sloppy Turkey is ready, it's time to serve it up! You have a few options for enjoying this tasty dish. You can spoon the turkey mixture onto soft hamburger buns for a classic sloppy joe sandwich experience. Alternatively, you can serve it over a bed of fluffy rice or creamy mashed potatoes for a heartier meal.
Whether you're serving it for a quick weeknight dinner or a casual gathering with friends and family, Dad's Sloppy Turkey is sure to be a hit. Its flavorful blend of vegetables, spices and sauces creates a savory and satisfying dish that everyone will enjoy. So, grab a plate and dig in!
Directions:
In a large sauté pan, heat vegetable oil over medium heat. Sauté onion, carrot and celery until softened, about 8 minutes. Add zucchini and red pepper and continue cooking until softened, about 5 minutes.
Stir in tomato paste and cook for 30 seconds. Add spices, stir until fragrant. Transfer vegetable mixture to a blender along with barbecue sauce and chunky marinara. Blend until smooth.
In a large sauté pan, over medium heat, cook ground turkey, about 10 minutes. Stir in sauce, bring to a boil and lower to a simmer. Continue cooking for 10 minutes.
Serve with hamburger buns, or over rice or mashed potatoes.
Recipe Courtesy of ALDI Test Kitchen

Recipes that are Better For You
These recipes are healthier options, crafted with ingredients that are naturally lower in sodium, fat or sugar than traditional recipes.