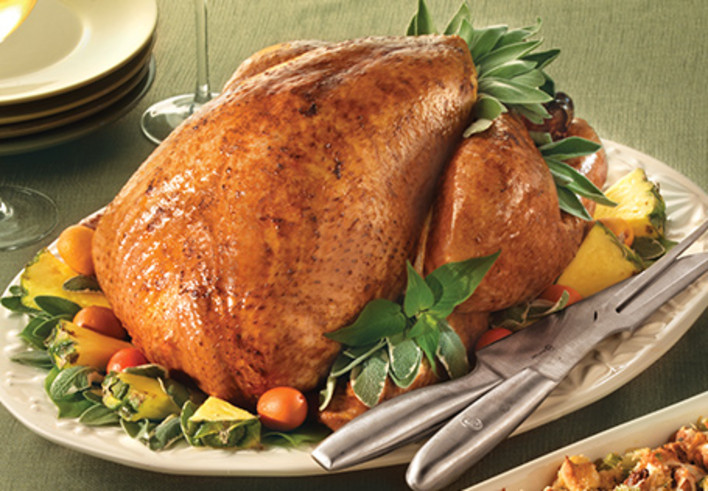 Cook Time:
2 hours, 30 minutes - 3 hours
Total Time:
3 hours - 3 hours, 30 minutes or more
Island Bird
A friendly twist on an old favorite.
Directions:
Defrost turkey according to package instructions.
Remove all innards from the turkey cavity and rinse with cold water inside and out. Pat dry both inside and out.
In a large pot, boil apple cider, salt, orange rinds and juice. Set aside to cool. Pour into a clean 5-gallon bucket.
When cool, add ice, one gallon of cold water and then turkey, making sure to fill cavity with liquid. Refrigerate overnight.
Preheat oven to 325°.
Drain turkey and pat dry inside and out. Discard remaining brine.
Arrange turkey, breast side up, on a roasting rack in a roasting pan. Loosely stuff turkey cavity with Island Stuffing. Pour 2 cups of water in bottom of pan.
Melt butter in a saucepan with pineapple juice and cook 2 minutes. Set aside. Add salt and pepper.
Truss legs together with butcher's twine, then brush the turkey with the melted butter mixture.
Bake for 2 1/2 to 3 hours or until internal temperature reaches 165°, occasionally basting the turkey with pan drippings. Cover with foil when the bird starts to brown.
Recipe courtesy of Chef Alyssa,
ALDI Test Kitchen