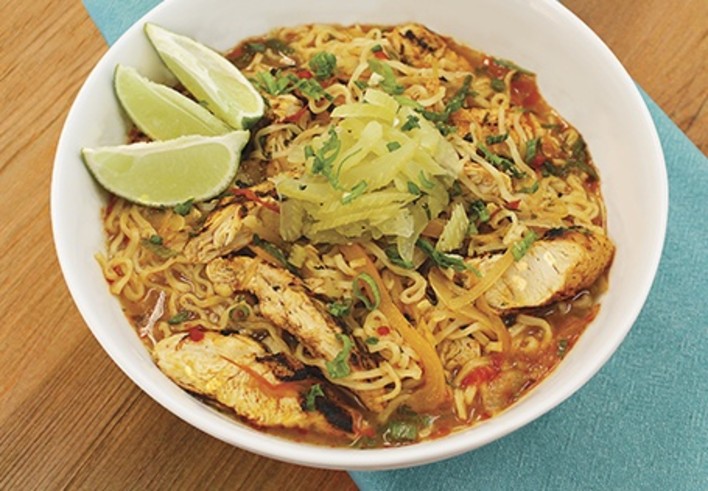 Prep Time:
20 minutes (plus 2 hours to cool)
Total Time:
50 minutes (plus 2 hours to cool)
Sriracha Chicken Ramen Bowl with Pickled Celery
Directions:
Heat grill to high.
For the pickled celery: Place celery in a canning jar. Combine remaining ingredients in a small saucepan and bring to a boil. Pour pickling liquid over celery and reserve. Allow celery to cool completely. Cut into thin slices.
For the chicken: Combine all ingredients in a resealable bag. Make sure chicken is well coated. Allow chicken to marinate for 1 hour in refrigerator.
Grill chicken until internal temperature reaches 165°. Cut chicken into thin slices and reserve.
For the soup: In a medium pot, heat oil over high heat. Add onion, pepper, tomatoes, garlic and ginger, sauté until onion is softened.
Add Sriracha sauce, vinegar, soy sauce and broth to pot and bring to boil.
Add noodles and cook until softened, about 3-5 minutes. Add reserved chicken.
Divide between four bowls, garnish with pickled celery, green onions and cilantro.
TIP: Pickle celery and marinate chicken overnight to reduce preparation time.

Recipe Courtesy of Chef Audrey, ALDI Test Kitchen