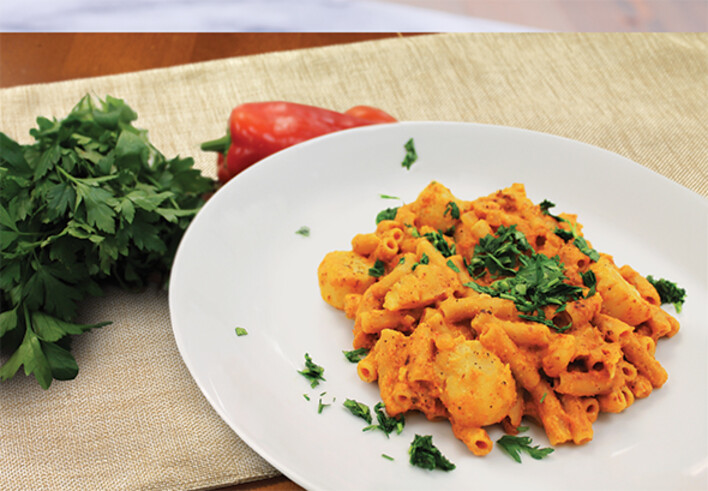 Gluten Free Romesco Penne
A unique way to use pantry items you already have on hand.
Directions:
Preheat oven to broil.
On a baking sheet, place bell peppers cut side down with unpeeled garlic. Broil peppers and garlic until skins become dark and blistered, about 7-10 minutes. Remove from oven, place in a medium bowl with a lid; let rest 5 minutes. Peel skins from peppers and garlic; discard.
In a blender, combine peppers, garlic, tomatoes, almonds, vinegar and 2 tablespoons parsley; blend until smooth. Season to taste with salt, pepper and additional vinegar.
Pat chicken or scallops until dry with paper towels. Sprinkle with ½ teaspoon salt and ¼ teaspoon pepper.
In a large pan, over high heat, heat olive oil. Sear scallops or chicken until golden brown, about 2-3 minutes per side. Reduce heat to medium. Add the onion and minced garlic, sauté an additional 3-5 minutes.
Add the wine; sauté 2 minutes. Add penne, chicken broth and roasted pepper mixture. Reduce heat to medium-low, cover and cook until pasta is tender, about 15-17 minutes. Garnish with remaining 2 tablespoons chopped parsley.
TIP: Looking to add more flavor to your dish? Add a tablespoon of lemon juice before blending the sauce!

Recipe Courtesy of ALDI Test Kitchen

Calories 490 Total Fat 14g Sodium 680mg Total Carbohydrate 73g Fiber 6g Sugars 4g Protein 18g
Recipes that are Better For You
These recipes are healthier options, crafted with ingredients that are naturally lower in sodium, fat or sugar than traditional recipes.