Beer of the Month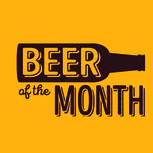 Want to see what is brewing? Each month our expert buyers custom suggest a unique beer. Look to one of these seasonally appropriate selections if you're unsure of what to buy. Always affordable and always appealing, give these beers a sip as they rotate throughout the seasons.
Hopping Nomad Session IPA
Aroma of mixed berries, lemon citrus, bubble gum, citrus zest and tropical pineapple. Pairs well with grilled or charred chicken dishes, Indian or Thai cuisine, sharp cheddar, BBQ and meaty fish.
Country of origin: USA