Never Any!
Antibiotics? Never. Added hormones? Never. Artificial ingredients? Never! Never Any! offers more than 20 high-quality meats at affordable prices.
Fresh Meat & Seafood
Deli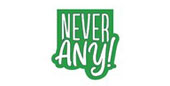 Get more of the taste you want without the additives. Every Never Any! product is certified by the USDA as meeting three criteria: No antibiotics, No added hormones or steroids, No animal by-products (vegetarian fed).
Our high-quality meat is not only healthier for our customers but provides more humane conditions for our animals. In 2018, Never Any!, earned the Good Housekeeping Seal, a symbol of quality assurance and consumer protection since 1909.
Shop Grocery Delivery & Curbside Pickup