Simply Nature
Our recipe is simple. Provide all organic and Non-GMO verified products at a great price. Whether it's our soy milk, frozen fruits, or soybean spaghetti, you won't find any added artificial ingredients and preservatives.
Dairy & Eggs
Fresh Produce
Frozen Foods
Fresh Meat & Seafood
Snacks
Bakery & Bread
Breakfast & Cereals
Pantry Essentials
Beverages
Deli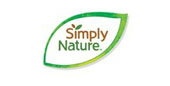 Less is more.
That means no artificial flavors or colors in any of our food. Instead you'll get delicious dairy, 100% pure cooking oils, and so much more. And now with the Good Housekeeping Nutritionist Approved Emblem it's even easier to find our products, just look for the green Emblem on shelves and online.
Shop Grocery Delivery & Curbside Pickup