Winking Owl Wine
A quirky little wine with amazing character, Winking Owl over-delivers on style with each and every varietal – from the robust cherry notes in the cabernet to the light-hearted citrus of the pinot grigio. Get to know the personality and character of each bottle without breaking the bank and take home Winking Owl Wine from ALDI.
Red Wines
White Wines
Rosé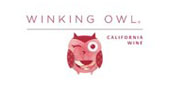 Winking Owl Wine
Each selection is designed with a wise and wonderful eye on value - blending decades of winemaking expertise with a clever efficiency that ensures deliciousness in every bottle of Winking Owl Wine.
Our selection includes 10 varieties that range from a sweet moscato to a full-bodied cabernet sauvignon. And they're more than a great bargain, they're award winning too. Winking Owl Pinot Grigio earned a Silver Medal & Best Buy in the Beverage Testing Institute World Wine Championships. Which makes it tough to argue against Winking Owl being among the best affordable wines.
Get to Know Winking Owl Wines
Shop Grocery Delivery & Curbside Pickup