Winking Owl Wine
A quirky little wine with amazing character, Winking Owl over-delivers on style with each and every varietal –from the robust cherry notes in the cabernet to the light-hearted citrus of the pinot grigio.
Red Wines
White Wines
Rosé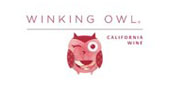 Winking Owl Wine
Each selection is designed with a wise and wonderful eye on value - blending decades of winemaking expertise with a clever efficiency that ensures deliciousness in every bottle.
Our selection includes 10 varieties that range from a sweet moscato to a full-bodied cabernet sauvignon. And they're more than a great bargain, they're award winning too. Winking Owl Pinot Grigio earned a Silver Medal & Best Buy in the Beverage Testing Institute World Wine Championships.
Shop Grocery Delivery & Curbside Pickup