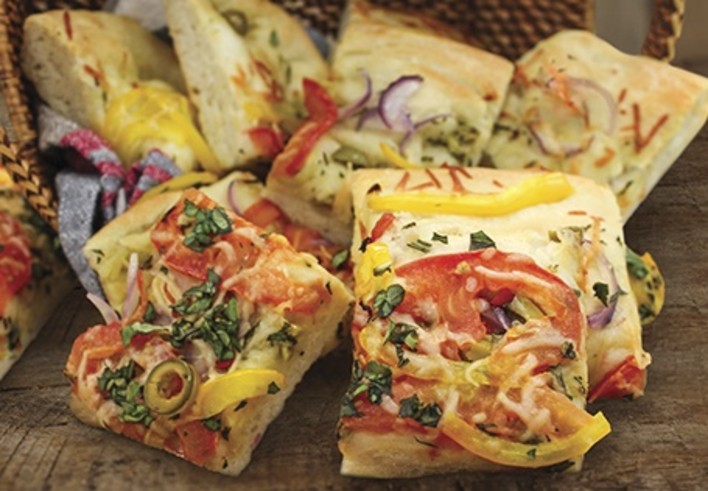 Total Time:
1 hour, 25 minutes
Loaded Focaccia Bread
Directions:
Preheat oven to 400º.
In a large bowl, dissolve sugar in water. Sprinkle yeast on top and let stand until it foams up, about 5 minutes. Stir in 1 tablespoon salt, 1 tablespoon oil and flour. Turn dough out onto a floured surface and knead until elastic and smooth. Pour 1 tablespoon oil into large bowl, add dough. Flip dough to coat both sides with oil. Cover with a cloth and let dough double in size, about 30 minutes.
Turn dough out and knead 2-3 times. Pour 1 tablespoon oil onto a half sheet pan and coat all sides. Spread dough out to fit pan. Using your finger, push dimples into the dough about ½-inch apart. Drizzle remaining 2 tablespoons oil over the dough and spread evenly. Top with rosemary, tomatoes, olives, onions, bell pepper and cheese. Let dough rise for 20 minutes. Bake for 25 minutes or until golden.
Top with basil and serve warm.
TIP: Instead of serving bread warm, cool completely and use for sandwiches.
Recipe Courtesy of Chef Megan, ALDI Test Kitchen