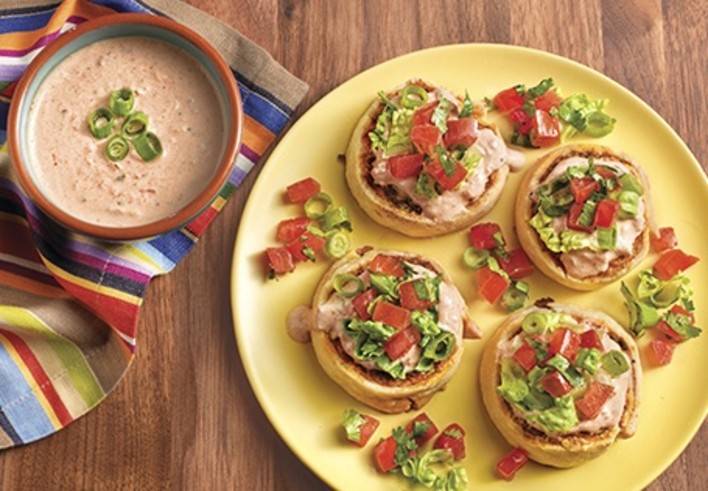 Prep Time:
30 minutes (plus 30 minutes to freeze)
Total Time:
1 hour, 5 minutes (plus 30 minutes to freeze)
Mexican Fiesta Rollies
Flaky pastry pinwheels filled with traditional taco flavors.
Directions:
Preheat oven to 375°.
Heat a medium skillet over medium heat. Add the ground beef and cook until fully browned. Drain excess fat, add taco mix and water. Reduce heat to low, simmer for 1 minute. Transfer seasoned beef into a bowl and refrigerate.
For the pico de gallo: In a small bowl, combine tomatoes, onions and cilantro. Season to taste with salt and pepper.
For the salsa cream: In a separate bowl, stir together the salsa, sour cream and salt.
To assemble the rollies: Unroll the pie crusts on a cutting board. Using a spatula, spread 1/2 cup of the beans on each pie crust, leaving a 1-inch border at the top. Sprinkle half of the Mexican shredded cheese over the refried beans, followed by 1 cup of the pico de gallo on each. Finish by sprinkling half of the cooked ground beef over each.
Starting at the bottom, carefully roll the pie crust with toppings, finishing with the pie crust seam side down. Place in the freezer on the cutting board for 30 minutes or until firm.
Remove from freezer and slice into 1-inch rounds. Lay flat on a parchment-lined baking sheet, 1-inch apart. Bake for 30-35 minutes, until golden brown. Remove from the oven and allow to cool for 5 minutes.
Place rollies on a serving dish. Garnish with salsa cream, shredded lettuce and remaining pico de gallo.
TIP: For a spicier version, substitute hot salsa for the mild salsa in the salsa cream and add fresh, minced jalapeños to the pico de gallo.
Recipe Courtesy of Chef Linsey, ALDI Test Kitchen