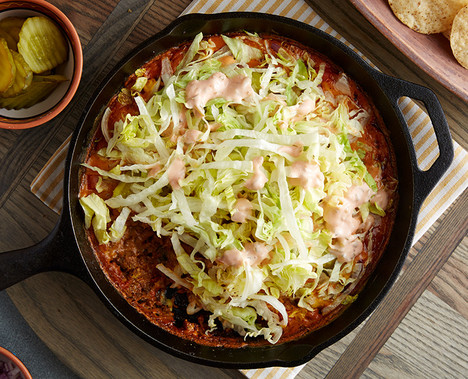 Cheeseburger Dip
Directions:
Preheat the oven to broil.
In a medium cast iron skillet, heat oil over medium heat. Add the ground beef and cook,

crumbling it with a wooden spoon, until beginning to brown, about 3 minutes.

Add the onion and cook until the onion is softened and the beef is cooked through, 7 to 8

minutes. Clear an empty spot in the middle of the skillet, add the tomato paste and toast

for one minute. Sprinkle with the garlic powder and stir to coat the meat.

Stir in the salsa con queso and half-and-half. Bring to a simmer and cook, stirring, until

smooth, about 1 minute. Sprinkle the middle of the dip with the cheddar cheese, leaving a

small border around the edge without cheese.

Place skillet in oven and broil until the top is bubbly and browned in places, 1 to 2

minutes.

Mix together the mayonnaise, relish and ketchup in a small bowl. Season with salt and pepper.
Top the dip with a sprinkle of onions and pickle chips, a mound of lettuce and tomato and

drizzles of the mayo-relish sauce, ketchup and mustard (optional).

Serve with tortilla chips for dipping.
Recipe Courtesy of Eddie Jackson, Food Network Host