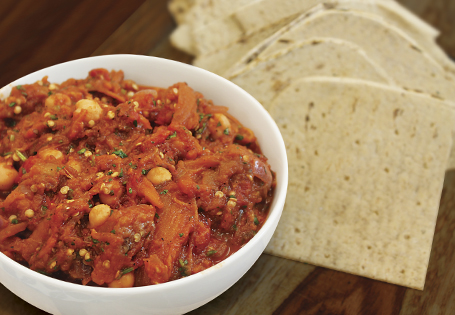 Eggplant Dip with Flatbread
Directions:
Preheat oven to 425°.
In a small bowl, combine the oil, ¼ teaspoon cumin and ¼ teaspoon paprika.
Place the eggplants skin side down on a baking pan. Rub the flesh side of each eggplant with 1 tablespoon of the oil mixture. Bake for 25 minutes until tender. Allow to cool for 5 minutes. Scoop out the flesh and reserve, discard the skin.
Fill a medium saucepan with water, bring to a boil. Slit the bottom of each tomato with an X. Place tomatoes into simmering water for 1 minute until the skin begins to peel. Remove the tomatoes and place under cold running water to remove skin. Peel and discard tomato skin. Cut the tomatoes in half around the center/equator, remove the seeds. Dice the tomatoes and reserve.
In a medium saucepan, heat the remaining 1 tablespoon oil mixture over medium-high heat. Add the garlic and onion, sauté for 5 minutes.
Add the eggplants, garbanzo beans, diced tomato, tomato sauce, tomato paste, oregano, sugar, salt, pepper and remaining cumin and paprika. Cook for 10 minutes, stirring occasionally.
Add the cilantro, stir until combined. Serve with flatbread.
TIP: For crisp flatbread, heat a grill pan over high heat. Toast the flatbread whole on each side for 1 minute, cut and serve.

Recipe Courtesy of Chef Michelle, ALDI Test Kitchen