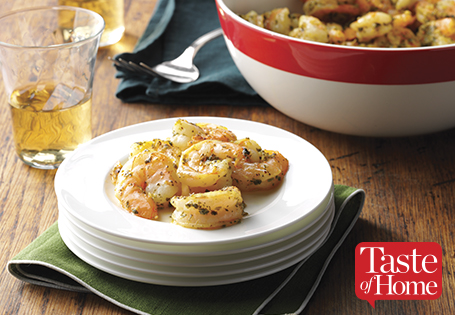 Roasted Pesto Marinated Shrimp
Directions:
Combine the shrimp, pesto, lemon zest and lemon juice in a medium bowl; toss well to coat shrimp. Cover and refrigerate at least 1 hour and up to 12 hours.
Preheat oven to 475°F. Lightly spray two large baking sheets with cooking spray.
Season the shrimp with salt and pepper, then arrange evenly in single layers on the prepared baking sheets.
Place one of the baking sheets in the oven and bake shrimp until opaque and cooked through, 5-6 minutes. Remove from the oven and repeat with the remaining shrimp.
Shrimp may be served hot, room temperature or chilled.
Recipe Courtesy of Taste of Home