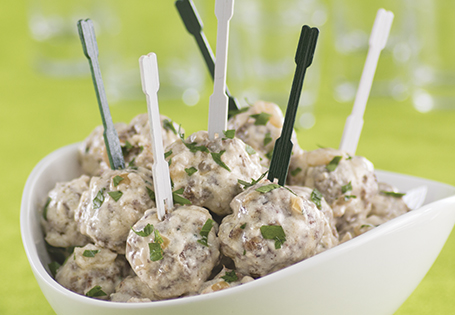 Swedish-Style Meatballs
Serve as an appetizer or make your meatballs a bit bigger to have with pasta for dinner.
Directions:
Preheat oven to 375°. Coat a baking pan with cooking spray.
For the meatballs: In a medium bowl, combine the ground beef, onion, garlic, quick oats, Worcestershire sauce, salt and pepper. Form 1-inch balls and place on prepared pan. Bake 15 minutes or until internal temperature reaches 165°.
For the sauce: In a medium saucepan, heat the oil. Add the onion, sauté until soft. Deglaze the pan with wine; cook until wine has reduced. Add beef broth.
In a small bowl, make a slurry by combining the corn starch and water. Whisk slurry into the broth and simmer for 5 minutes.
Stir the sour cream into the broth. Season to taste with salt and pepper; add meatballs. Serve warm.
Recipe Courtesy of Chef Stacey, ALDI Test Kitchen