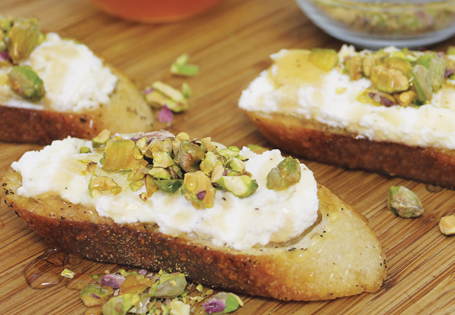 Ricotta Toasts with Pistachios & Honey
Directions:
Preheat oven to 400°.
Cut each slice of bread in half. In a medium bowl, toss with olive oil. Season to taste with salt and pepper. Add parsley flakes, toss until coated.
Lay each bread slice onto a baking sheet in a single layer. Toast for 4 minutes, flip, toast for 3 more minutes or until light golden brown.
In a small bowl, mix ricotta with 3/4 teaspoon salt and 3/4 teaspoon pepper. Spread ricotta onto each toast, sprinkle with pistachios and drizzle with honey. Serve immediately.
Recipe Courtesy of Chef Michelle,
ALDI Test Kitchen