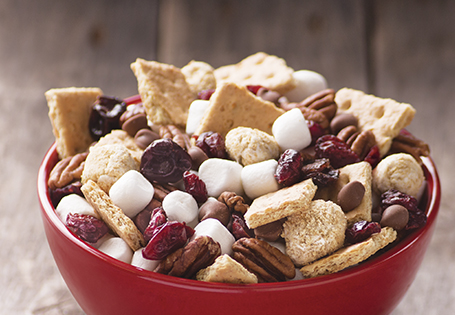 S'mores Trail Mix
Directions:
For the graham cracker treats: Chop the graham crackers into fine crumbs, reserve.
In a medium bowl, microwave the marshmallows on high for 30 seconds. Stir; heat for an additional 15 seconds.
Immediately add the chopped graham crackers to melted marshmallows, stir until combined. With wet hands, pull mixture into ½-inch pieces. Place on a parchment-lined sheet pan, ½ inch apart. Allow to sit at room temperature for 5 minutes.
For the trail mix: Break the graham crackers into bite-sized pieces.
In a large bowl, combine the graham cracker treats, graham cracker pieces, chocolate chips, pecans, dried mixed berries and miniature marshmallows. Store in airtight container for up to 2 weeks.
Recipe Courtesy of Chef Linsey, ALDI Test Kitchen