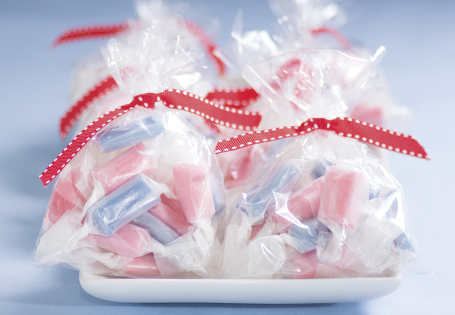 Yankee Doodle Candy
Chewy salt water taffy mixed with patriotic sprinkles for a burst of color.
Directions:
Spray 3 8x8-inch pans with cooking spray.
In a large pot over medium-high heat, whisk together corn syrup, sugar, corn starch, coconut oil, salt and water. Boil mixture until a candy thermometer reads 255° for soft taffy, up to 280° for harder taffy. Immediately remove from heat; evenly divide mixture between greased pans.
Stir in 3/4 cup marshmallows into two pans, stir grape drink mix packet into third pan. Add blue food coloring to grape mixture.
Once mixture has cooled, spray hands with cooking spray. One at a time, remove marshmallow taffy from pans. Repeatedly pull taffy into one long strand and fold taffy back onto itself. Once taffy becomes dull in color, add red sprinkles to one and blue sprinkles to the other. Continue pulling and folding until sprinkles are well incorporated and taffy becomes too hard to pull. Repeat process with grape taffy.
Roll each taffy into long ropes about 1/2-3/4-inch thick. Using scissors, cut taffy pieces to 1" length. Wrap each piece in wax paper or candy paper for easy storage.
TIP: Taffy too hard to pull? No problem! Place in a microwave-safe dish and microwave on high 15-20 seconds. Taffy will become soft and pliable.
Want more flavor and color? Replace the marshmallows in the second pan with a cherry or fruit punch drink mix packet and add red food coloring instead of sprinkles.
Recipe Courtesy of ALDI Test Kitchen