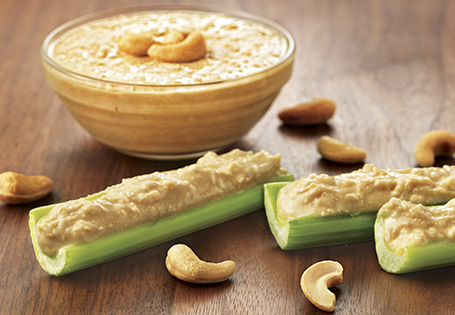 Cashew Butter
A great alternative to peanut butter.
Directions:
In a food processor bowl, combine cashews, 1 tablespoon coconut oil and 1 teaspoon honey until blended. Scrape down sides and continue processing until smooth. Add 1 more tablespoon of coconut oil if you would like the cashew butter to be smoother. Add ½ teaspoon of honey if you would like the cashew butter to be sweeter.
Store cashew butter in a sealed container in the refrigerator for up to 2 weeks.
Recipe Courtesy of ALDI Test Kitchen


The nutritional and special diet information provided with recipes on the site is intended to be a helpful educational resource. The information is not intended to be a substitute for medical advice by a licensed health care professional.

Product information can change without notice, so if you have dietary restrictions and/or allergies it is critical to read all product labels carefully before purchasing and consuming a product.