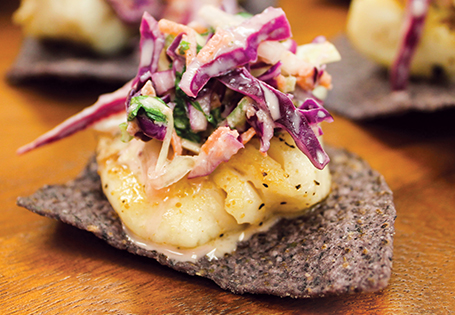 Mini Tilapia Bites
A gluten-free treat. Pan-seared tilapia on a blue corn chip with coleslaw.
Directions:
In a medium bowl, combine the coleslaw dressing ingredients. Add the red and green cabbage, carrots and cilantro. Toss thoroughly.
Season tilapia fillets with salt and pepper, to taste.
In a large nonstick pan, heat oil over medium-high heat. Add crushed red pepper, ginger and lime zest.
Pan sear each fillet 1-2 minutes per side.
Arrange tortilla chips on a large platter. Top each chip with a piece of tilapia and coleslaw. Serve immediately.
Recipe Courtesy of Chef Michelle,
ALDI Test Kitchen


The nutritional and special diet information provided with recipes on the site is intended to be a helpful educational resource. The information is not intended to be a substitute for medical advice by a licensed health care professional.

Product information can change without notice, so if you have dietary restrictions and/or allergies it is critical to read all product labels carefully before purchasing and consuming a product.