Strawberry Protein Power Bar
Lightly sweetened granola bar packed with protein and pockets of flavor from freeze dried strawberries and raw nuts.
Directions:
Line an 8x8-inch baking pan with parchment paper.
In a medium bowl, combine oats, protein powder, nuts, honey and applesauce. Mix with hands until mixture is fully moistened. Reserve.
In a medium bowl, microwave chocolate until melted. Pour into baking pan and spread evenly to coat the bottom. Sprinkle with freeze dried strawberries.
Crumble the oat and nut mixture on top and press firmly into pan.
Refrigerate for 20 minutes. Remove from pan and cut into 14 bars.
Recipe Courtesy of Chef Linsey, ALDI Test Kitchen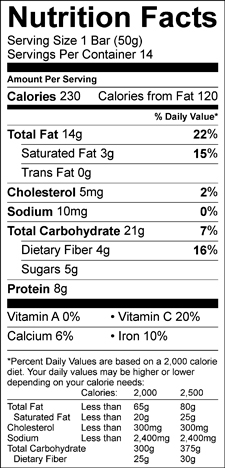 The nutritional and special diet information provided with recipes on the site is intended to be a helpful educational resource. The information is not intended to be a substitute for medical advice by a licensed health care professional.

Product information can change without notice, so if you have dietary restrictions and/or allergies it is critical to read all product labels carefully before purchasing and consuming a product.