Turkey Chinese Dumplings
A lean take on a popular Chinese appetizer.
Directions:
In a medium bowl, combine flour and boiling water until a soft dough ball forms. On a floured surface, knead dough for 5 minutes. Divide the dough in half. Roll out dough to a 12x12-inch rectangle. Cut 15 3-inch circles. Repeat with remaining dough. Place circles on a baking sheet and wrap with plastic wrap. Make sure dough has enough flour or the circles will become too sticky.
In a large bowl, combine cabbage, 2 tablespoons ginger, 2 tablespoons garlic, 2 tablespoons green onions, 1 tablespoon soy sauce, corn starch and ground turkey.
Place 1 tablespoon turkey filling in the center of 3-inch dough circle. Gently lift edges of circle and create 5 pleats, crimping together edges to form dumpling. Repeat with remaining dumplings.
In a large wok, heat 2 tablespoons vegetable oil over medium-high heat, until small bubbles appear. Place half of dumplings in wok and cook until bottoms are golden brown, about 2 minutes. Gently place dumplings on their sides, add 2 tablespoons of water and cover wok. Cook for about 5 minutes or until internal temperature of dumpling is 165°. Remove dumplings and keep warm. Repeat with remaining dumplings.
In a small saucepan, over medium-low heat, combine remaining 1 teaspoon ginger, 1 teaspoon garlic, 2 tablespoons green onions and vinegar, cook until fragrant. Remove from heat and stir in remaining soy sauce. Serve dumplings with sauce on the side.
Recipe Courtesy of ALDI Test Kitchen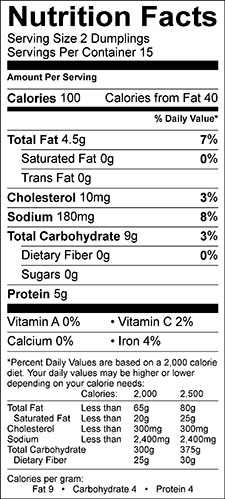 The nutritional and special diet information provided with recipes on the site is intended to be a helpful educational resource. The information is not intended to be a substitute for medical advice by a licensed health care professional.

Product information can change without notice, so if you have dietary restrictions and/or allergies it is critical to read all product labels carefully before purchasing and consuming a product.