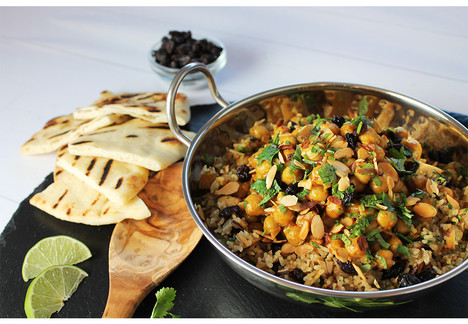 Chickpea Korma with Spiced Rice
Meatless Monday with a middle eastern flair!
Directions:
In small pot, heat oil over medium heat.
Add onions and sauté for 5 minutes. Add garlic, rice, cinnamon, ginger, cumin, crushed red pepper and lime zest. Toast rice and spices for 5 minutes. Add 1 cup water, continue cooking according to packaging instructions. Remove from heat and stir in raisins and almonds, sprinkle with ¼ cup chopped cilantro. Reserve in serving bowl.
Meanwhile, in a nonstick sauté pan over medium heat, add garbanzo beans. Cook for 5 minutes. In a small bowl, whisk together korma and remaining 1/4 cup water. Pour sauce over garbanzo beans and cook for 10 minutes or until sauce is thickened, stirring frequently.
Pour garbanzo beans over rice and garnish with remaining cilantro, raisins, almonds and desired amount of lime juice. Season to taste with salt.
Recipe Courtesy of Chef Audrey, ALDI Test Kitchen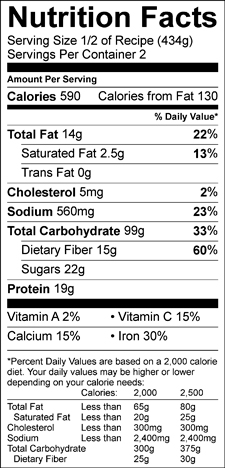 The nutritional and special diet information provided with recipes on the site is intended to be a helpful educational resource. The information is not intended to be a substitute for medical advice by a licensed health care professional.

Product information can change without notice, so if you have dietary restrictions and/or allergies it is critical to read all product labels carefully before purchasing and consuming a product.