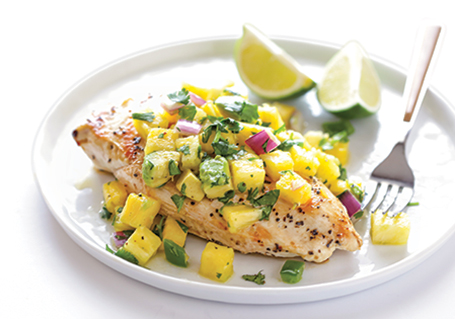 Grilled Chicken with Pineapple Avocado Salsa
Directions:
For the salsa: In a medium bowl, combine all ingredients. Reserve.
For the chicken: Brush the chicken on both sides with olive oil. Season with salt and pepper to taste.
Preheat grill or grill pan over medium-high heat. Cook the chicken until the internal temperature reaches 165°, about 5 minutes per side.
Remove chicken and allow it to rest for 5 minutes. Plate the chicken and top with desired amount of salsa.
Recipe and Photo Courtesy of Ali Ebright, Gimme Some Oven
Calories 300 Total Fat 16g Sodium 230mg Total Carbohydrate 14g Fiber 2g Sugars 9g Protein 28g