Slow Cooker Cabbage Rolls
Directions:
In a medium bowl, combine tomatoes, vinegar, paprika, garlic powder and oregano. Place a thin layer on bottom of slow cooker.
In a medium bowl, combine turkey, onion, quinoa, salt, pepper and egg.
Pat cabbage leaves dry and place rib side down. Divide mixture evenly between cabbage leaves.
Roll each leaf into a cylinder, tucking the sides to create a tight roll.
Place in slow cooker and cover with remaining sauce. Turn slow cooker on low for 8 hours or high for 4 hours.
Recipe Courtesy of Chef Alyssa, ALDI Test Kitchen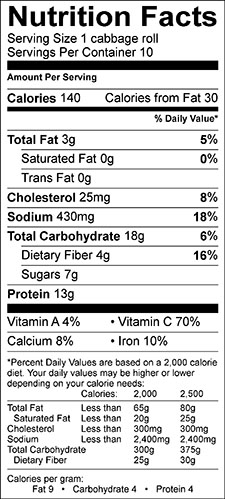 The nutritional and special diet information provided with recipes on the site is intended to be a helpful educational resource. The information is not intended to be a substitute for medical advice by a licensed health care professional.

Product information can change without notice, so if you have dietary restrictions and/or allergies it is critical to read all product labels carefully before purchasing and consuming a product.