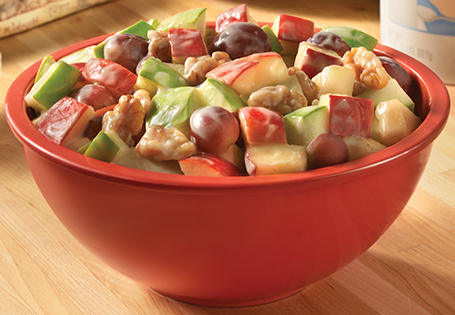 Apple Waldorf Salad
Cool and refreshing, a healthy accompaniment for any time of year.
Directions:
To prepare dressing, add brown sugar to vinegar and stir with a whisk until dissolved.
Add yogurt and stir to combine.
Season with a pinch of salt.
Place salad ingredients in a bowl and add dressing.
Toss to combine.
TIP: Can be eaten immediately, or made up to 3 hours ahead of time and chilled. Stir before serving.

Recipe courtesy of Chef Kates,
ALDI Test Kitchen


The nutritional and special diet information provided with recipes on the site is intended to be a helpful educational resource. The information is not intended to be a substitute for medical advice by a licensed health care professional.

Product information can change without notice, so if you have dietary restrictions and/or allergies it is critical to read all product labels carefully before purchasing and consuming a product.