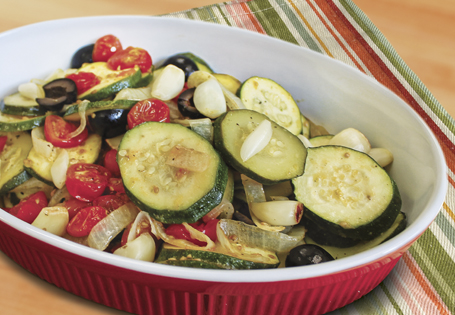 Mediterranean Roasted Vegetables
Directions:
Preheat oven to 375°.
Slice the roots off of the garlic bulbs and rub them with 1 tablespoon olive oil. Place them on a baking pan.
In a medium bowl, combine the cherry tomatoes, zucchini and onions. Toss with remaining 2 tablespoons olive oil, lemon zest and salt.
Spread the vegetables on the baking pan with the garlic. Roast for 40 minutes.
To serve, squeeze the garlic from the peels and toss with the vegetables and olives. Serve immediately.
Recipe Courtesy of Chef Stacey,
ALDI Test Kitchen


The nutritional and special diet information provided with recipes on the site is intended to be a helpful educational resource. The information is not intended to be a substitute for medical advice by a licensed health care professional.

Product information can change without notice, so if you have dietary restrictions and/or allergies it is critical to read all product labels carefully before purchasing and consuming a product.