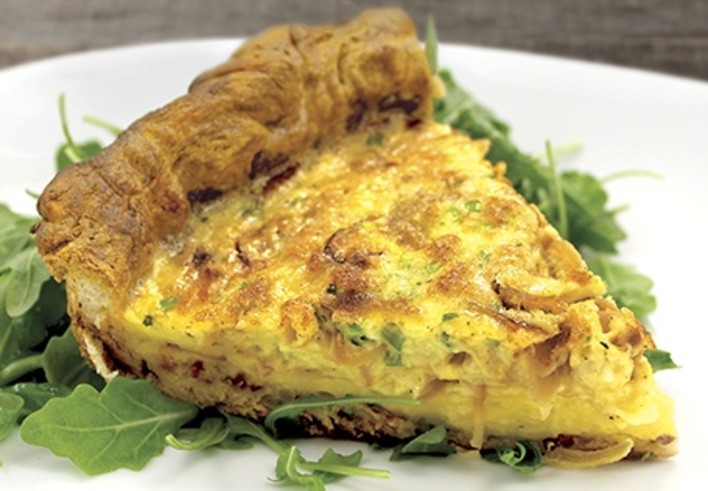 Cook Time:
1 hour, 15 minutes
Total Time:
1 hour, 20 minutes
Caramelized Onion & White Cheddar Quiche with a Bacon Crescent Crust
A savory quiche with a uniquely flavored crust.
Directions:
Preheat oven to 350°.
In a medium sauté pan, heat oil over medium heat. Add onions and 1 teaspoon of salt. Cook for 10-15 minutes until soft and medium brown, stirring occasionally. Remove from pan and allow to come to room temperature.
Unroll the crescent dough and press into a 9-inch pie pan to form an even layer, covering the entire pan. Sprinkle evenly with the bacon, rosemary and thyme and press into dough.
In a large bowl, whisk together eggs, cream and milk until thoroughly combined. Stir in cheddar, green onions, remaining 1 teaspoon of salt and pepper. Pour into prepared crust and bake for 45 minutes to 1 hour or until filling is set. If crust starts to brown, cover with aluminum foil or crust protector.
Remove from oven and allow to rest for 10 minutes before serving. Can be kept chilled for up to 4 days and reheated when served.
Recipe Courtesy of Chef Linsey, ALDI Test Kitchen