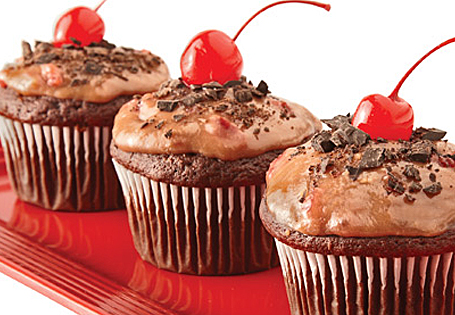 Chocolate-Covered Cherry Cupcakes
A chocolate cupcake with a cherry surprise!
Directions:
Preheat oven to 350°.
Combine the cake mix, oil, eggs and 1 cup of water in a mixing bowl. Stir until well blended.
Place liners in a muffin pan. Using a 1/4 cup scoop, fill liners 1/2 full.
Roll the maraschino cherries in flour. Place one cherry in the center of each cupcake.
Bake for 20-25 minutes or until a toothpick inserted in the center comes out clean. Cool on a wire rack.
In a small saucepan, bring cordial cherries, powdered sugar, cream cheese, butter and whipping cream to a simmer. Mash the cherries and stir until melted.
Simmer for 10 minutes, strain frosting into a bowl.
Cool for 30 minutes, frost cupcakes.
Grate chocolate bar to create shavings, then sprinkle frosted cupcakes with chocolate shavings. If desired, garnish with a maraschino cherry.
Recipe courtesy of Chef Jared,
ALDI Test Kitchen