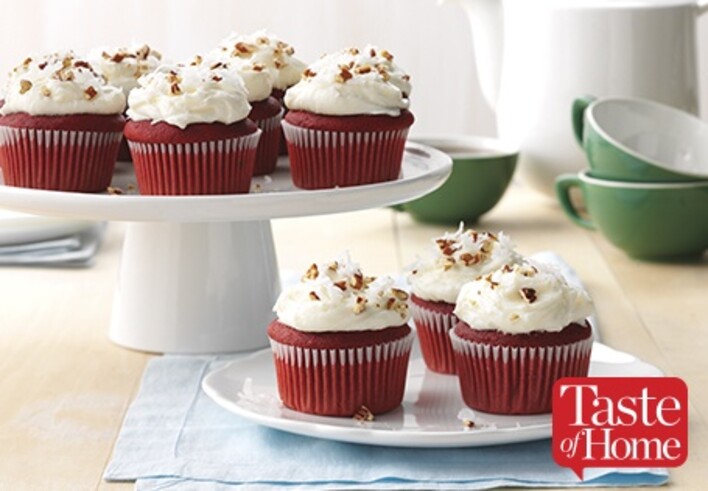 Total Time:
8 hours, 35 minutes
Red Velvet Cupcakes with Cream Cheese Coconut-Pecan Frosting
Directions:
Preheat oven to 350°F. Line a 12-cup muffin pan with paper liners.
For the cupcakes: Combine the flour, cocoa powder, baking soda and salt in a bowl. In a separate bowl, with an electric mixer on high speed, cream the butter and sugar together until light and fluffy. Beat in the eggs one at time, scraping down the bowl in between. Beat in the food color and vanilla until well distributed. With the mixer on medium, beat in the sour cream and milk. Lower the mixer to low speed and add the flour mixture to the egg mixture and beat until just blended. Spoon the batter into the cups, filling about 3/4 full.
Bake 17-19 minutes, or until a toothpick inserted into the center of the cupcakes comes out clean. Remove from the oven and cool 5 minutes. Remove cupcakes from the pan and set on a wire rack; cool completely, about 45 minutes.
For the frosting: In a bowl, with an electric mixer, beat the cream cheese and butter until well combined. Gradually beat in the powdered sugar until the frosting is smooth and holds peaks.
Spread the top of each cupcake generously with the frosting, mounding it in the center. Sprinkle the tops with the pecans and coconut. Can be made ahead and chilled before serving.
Recipe Courtesy of Taste of Home