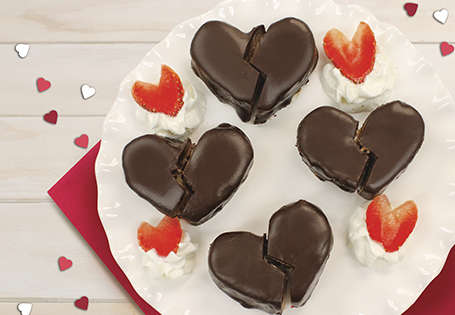 Heart Stacker
Build a stack of heart-shaped cakes and gelatin to create a fun-loving treat.
Directions:
Preheat oven to 350°. Coat a 9x13-inch baking pan with cooking spray.
In a small saucepan, bring the water to a boil. Stir in the gelatin mix until dissolved. Pour into a 13x9-inch nonstick baking pan. Refrigerate for 3 hours.
In a blender, puree strawberries until smooth. Pour into a liquid measuring cup and add water if needed to fill cup to 1 1/4 cups.
In a large bowl, combine the cake mix, egg whites, 1/4 cup oil and strawberries. Whisk for 2 minutes. Pour into the prepared baking pan.
Bake for 28-35 minutes. Allow to cool.
Crumble the cake into a large bowl. Stir in the whipped topping until well combined.
Press the cake into a 2x1-inch deep heart-shaped cookie cutter and repeat to form about 16 hearts. Freeze for 15 minutes.
Remove the gelatin from the refrigerator. With the heart-shaped cookie cutter, cut 16 hearts.
Slice each cake heart in half to create 32 hearts. Stack the hearts starting with the cake, gelatin and then another cake onto a wire rack set on top of parchment paper. Freeze for 5 minutes.
In a small saucepan, bring the heavy cream to a boil.
In a medium bowl, combine the heavy cream and chocolate, cover. Allow to sit for 5 minutes.
Add the remaining 1 tablespoon oil, whisk until smooth. Remove the heart cakes from the freezer. Spoon the chocolate over each cake for even coverage, tapping the pan lightly to even out the chocolate. Refrigerate for 10 minutes until the ganache sets.
For fun, cut each heart in a zig-zag down the middle to create a broken heart for sharing between two friends.
TIP: For a chocolate cake heart, replace the white cake mix with devil's food cake mix. In step 3, puree strawberries and pour into a liquid measuring cup and add water if needed to fill cup into 1 1/3 cups. Replace the egg whites with whole eggs and increase the oil to 1/2 cup.

Recipe Courtesy of Chef Michelle, ALDI Test Kitchen