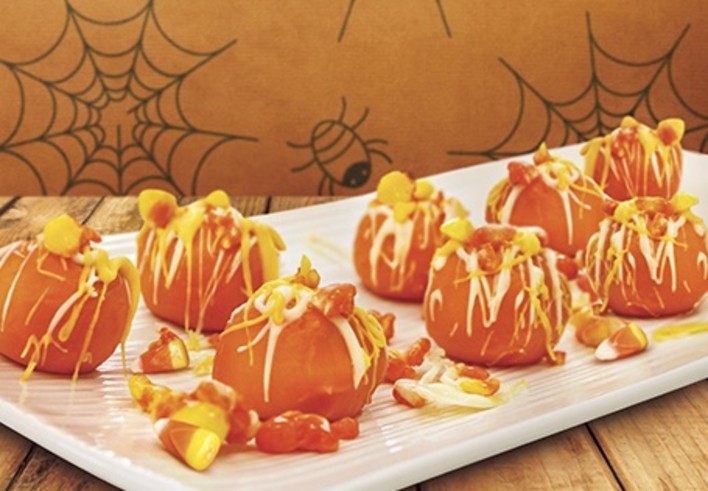 Prep Time:
20 minutes (plus 2 hours to cool)
Total Time:
30 minutes (plus 2 hours to cool)
Candy Corn Truffles
Directions:
Place 4 ounces white morsels in a medium bowl and reserve.
In a medium pot, combine 1 cup candy corn, cream and butter. Warm over medium heat until candy corn is completely melted.
Pour mixture over white morsels and stir to melt. Place in refrigerator and allow to cool completely, about 2 hours.
When mixture is cooled, scoop out a rounded tablespoonful; roll into a ball. Place on a baking sheet coated with cooking spray. Repeat with remaining mixture. Chill truffles in refrigerator.
Meanwhile, finely chop remaining ¼ cup candy corn; reserve.
In 2 separate bowls, place 2 ounces white morsels in each bowl. Microwave for 1½ minutes or until melted. Add 3 drops of yellow food coloring to one of the bowls and stir until thoroughly combined.
Remove truffles from refrigerator. Using a fork, drizzle both colors of chocolate over truffles and immediately garnish with crushed candy corn.
TIP: Make chocolate mixture the night before to reduce your prep time!

Recipe Courtesy of Chef Audrey, ALDI Test Kitchen