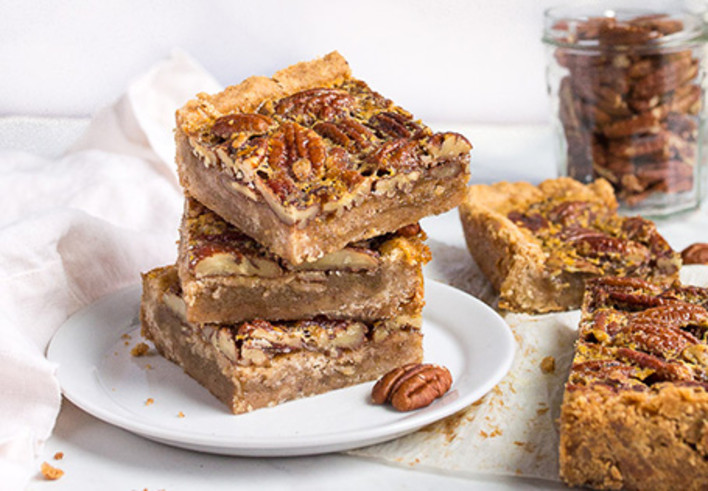 Total Time:
1 hour, 30 minutes
Pecan Pie Bars
Take this classic holiday dessert on the road!
Directions:
Preheat oven to 350 degrees. Line an 8 x 8-inch pan with parchment paper.
In the bowl of a big (at least 5-6 cup) food processor, add the diced butter, sugar, flour, pecans and salt. Pulse until the mixture clumps together into a large ball.
Press the crust mixture into the pan in an even layer. Press it up the sides at least 1 inch to hold the filling.
Bake for 30 minutes, but half-way through the bake time, use a wooden spoon to press down any puffy places in the dough.
When the 30 minutes is up, remove the crust from the oven and again, press down any puffed up places with a wooden spoon.
Let the crust cool completely, until cool to the touch.
Meanwhile, melt the butter in the microwave. Pour the butter into a large bowl and add all remaining ingredients, except the pecans. Whisk very well to blend and make sure to break up the eggs thoroughly.
Place pecans on baking sheet and place in 350 degree oven for 10-15 minutes, stirring every 5 minutes until fragrant.
Finally, stir in the toasted pecans. Pour this mixture over the crust and bake for 30 minutes. When the pecan pie bars are done the filling won't jiggle all over, just very slightly in the center.
Let the bars cool completely before attempting to slice.
Recipe and image courtesy of @dessertfortwo.