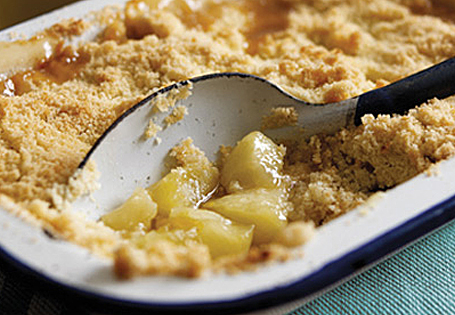 Individual Poached Pear Crumble
With apricot sauce and cinnamon graham cracker topping.
Directions:
Preheat oven to 350°.
Place orange juice, brown sugar, cinnamon, cloves, pears and vanilla in a small saucepan, mix well and cover. Simmer for 15 minutes.
Remove pears with a slotted spoon and place in 4 small ramekins or a rectangular baking dish.
Combine corn starch and water until dissolved. Set aside.
Add apricot preserves to saucepan. Whisk well and bring to a boil. Add corn starch paste to saucepan, stir until thickened.
When sauce is thickened, remove from heat and spoon over pears.
Melt butter in microwave for 30 seconds to 1 minute.
Crush graham crackers to the size of breadcrumbs, mix together with melted butter.
Crumble on top of pears and bake for 20 minutes or until golden brown and bubbling.
Recipe courtesy of Chef Alyssa,
ALDI Test Kitchen