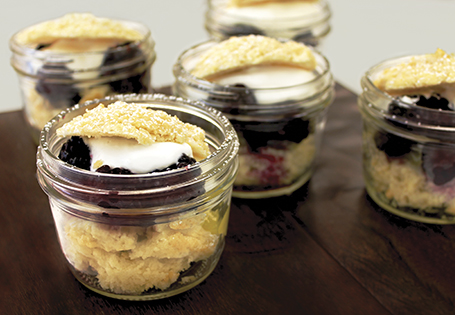 Lemon Blackberry Shortcakes
Directions:
For the shortcakes: Preheat oven to 400°. Combine flour, baking powder, salt and sugar. Cut in the butter until pea-sized pieces form. Combine milk and lemon juice. Add to flour mixture and mix until just combined.
On a parchment-lined baking sheet, drop dough into 20 balls and flatten into round shortcakes. Bake for 16 minutes or until golden brown.
For the lemon curd: Combine all ingredients in a small saucepan. Cook over medium heat, stirring continuously for about 3-4 minutes. Once thickened, pour lemon curd into a shallow glass container. Cover with plastic wrap directly touching the top of the curd to prevent a skin from forming. Chill for at least 1 hour.
In a medium bowl, combine the heavy whipping cream and the powdered sugar. Whip the cream to medium stiff peaks, about 2 minutes. Reserve.
Combine the fresh blackberries and the sugar. Toss to coat and reserve.
Split each shortcake horizontally, using a serrated knife. Reserve the tops. Spoon lemon curd onto the bottoms of the shortcakes. Layer a spoonful of blackberries on top of the lemon curd, followed by the whipped cream. Place the tops back onto the shortcakes. Sprinkle the tops with powdered sugar as garnish, if desired.
Recipe Courtesy of Chef Leigh An, ALDI Test Kitchen