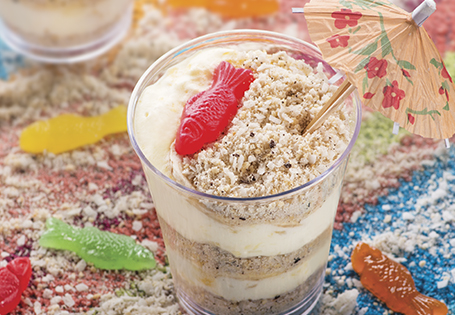 Summertime Sand Cake
A tropically flavored summertime take on a classic kids dessert.
Directions:
Prepare pudding mix according to package instructions.
In a medium bowl, beat the heavy cream, powdered sugar and vanilla extract until stiff peaks form.
In a large bowl, fold together the pudding, whipped cream and crushed pineapple. Refrigerate.
In a food processor, pulse the vanilla sandwich cookies and chocolate sandwich cookie on high until you have fine crumbs. Add coconut flakes and pulse on high until combined.
To assemble the cake: In a medium bowl, place 1/4 of the cookie mixture at the bottom, then place 1/3 of the whipped cream mixture, followed by the bananas. Continue this process until you've reached the top of the bowl. Finish the top with the cookie mixture and allow to set for 30 minutes in the refrigerator.
Garnish with gummy fish, gummy bears and summer decorations.
TIP: Use a shovel and pail as a serving vessel to get the full effect of real sand.

Recipe Courtesy of Chef Linsey, ALDI Test Kitchen