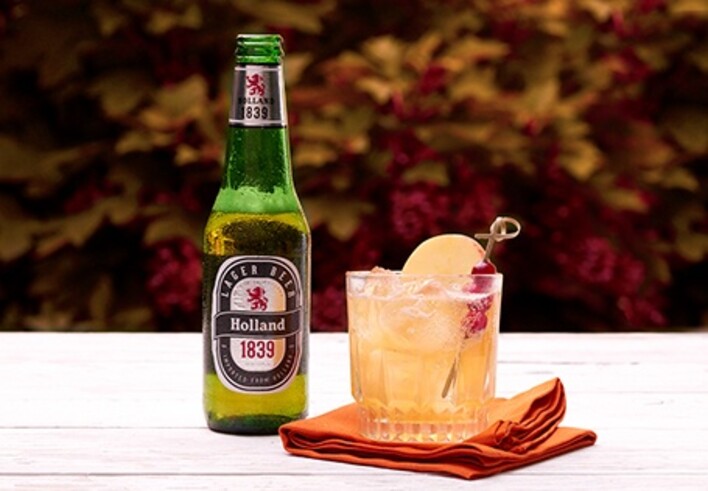 Bourbon Apple Beer
Discover the delightful combination of smooth bourbon, sweet apple juice and a hint of cinnamon in our bourbon apple beer. This unique beverage is perfect for those looking to enjoy a refreshing and flavorful drink on a sunny day or to unwind after a long week.
To create the bourbon apple beer, start by whisking together 2 tablespoons of chilled bourbon and a teaspoon of honey for a natural touch of sweetness. Sprinkle in a quarter teaspoon of ground cinnamon to add a warm and comforting note. Finally, pour in 8 ounces of 100% apple juice, ensuring it's nicely chilled for a refreshing sip.
Once the ingredients are combined, pour the apple juice mixture into two medium glasses. The beautiful amber color of the apple juice, complemented by the rich hues of bourbon and cinnamon, creates an inviting visual appeal.
To complete the experience, top each glass with 6 ounces of Holland Lager 1839, allowing the crisp and bubbly goodness of the beer to marry with the flavors of bourbon and apple juice. The fizziness of the lager adds a delightful liveliness to the drink, enhancing the overall drinking experience.
Serve the bourbon apple beer chilled or over ice, depending on your preference. The combination of smooth bourbon, sweet apple juice and a hint of cinnamon, accentuated by the crispness of the lager, will provide a refreshing and balanced taste that is sure to please your palate.
Directions:
In a medium bowl, whisk together bourbon, honey, cinnamon and apple juice.
Pour apple juice mixture evenly into two medium glasses. Top with equal amounts of beer in each glass. Serve chilled or over ice.
Recipe Courtesy of Chef Linsey, ALDI Test Kitchen