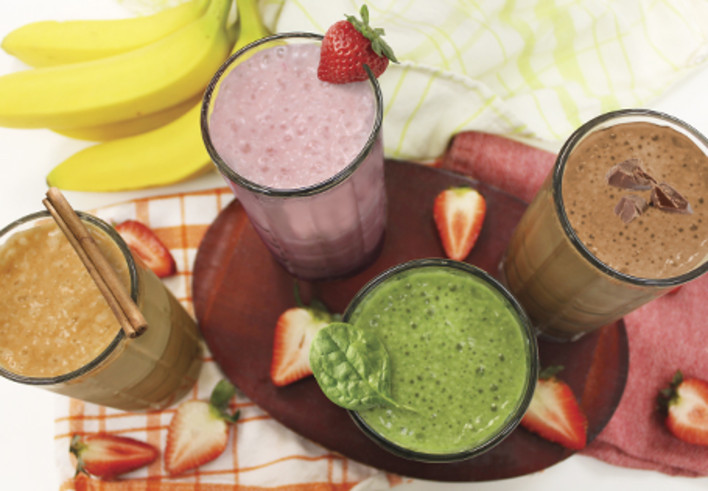 Protein Shakes
Looking for a delicious and nutritious way to start your day? Try this Chocolate Peanut Butter Protein Shake recipe! Made with Elevation chocolate protein powder, organic peanut butter and a banana, this shake is packed with protein, healthy fats and natural sweetness.
To begin, add 8 ounces of water to a blender. Next, add 2 scoops of chocolate protein powder to the blender. The chocolate flavor of this protein powder is sure to satisfy any chocolate lover's cravings! Slice half of a banana and add it to the blender as well. The banana not only adds natural sweetness but also provides potassium and fiber.
To create a thick and creamy consistency, add 8 ice cubes to the blender. Finally, add a tablespoon of organic creamy peanut butter to the mixture. The peanut butter adds a rich, nutty flavor to the shake while also providing additional protein and healthy fats.
Blend all the ingredients together until smooth and creamy. You can adjust the consistency of the shake by adding more or fewer ice cubes. Pour the shake into a glass and enjoy!
This chocolate peanut butter protein shake recipe is a perfect breakfast or post-workout drink. It provides a healthy balance of protein, carbohydrates and healthy fats, keeping you satisfied and energized for hours. It is also an excellent way to satisfy your chocolate and peanut butter cravings while maintaining a healthy lifestyle.
Directions:
Choose your favorite flavor combination and combine all ingredients in a blender. Blend for one minute and enjoy.
Recipe Courtesy of Chef Alyssa, ALDI Test Kitchen

Recipes that are Better For You
These recipes are healthier options, crafted with ingredients that are naturally lower in sodium, fat or sugar than traditional recipes.