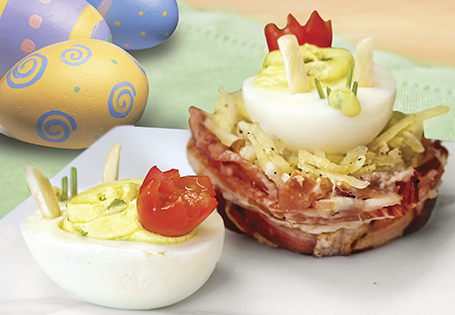 Bunnies in a Basket
Kids will love this breakfast of avocado deviled eggs with hash browns in a bacon basket.
Directions:
Preheat the oven to 400°.
Place a muffin pan upside down on a baking sheet. Spray the bottoms of 6 of the cups with cooking spray. Cut 24 slices of bacon into quarters. Weave 8 pieces (4 across, 4 diagonal) together. Drape each bacon weave over one of the sprayed cups. Cut 3 pieces of bacon lengthwise. Wrap the bottom halves of the cups with a long half slice of bacon, secure with a toothpick. Bake for 20-25 minutes, or until the bacon is crisp. Drain the pan and allow the bacon basket to cool on the muffin pan. Remove toothpick gently, reserve. Reduce oven to 375°.
Cut the eggs in half. In a medium bowl, mash the yolks, reserve the whites. Add the avocado, mash until smooth. Add the yogurt, garlic powder, cumin, cilantro and salt, to taste. Stir until combined. Place mixture into a sandwich bag. Cut off one corner of the bag, creating a medium-sized hole. Pipe filling into each egg white cavity and add a small dot on the tip of the egg to represent the nose. Place two slivered almonds in the larger half of the egg white to resemble bunny ears. To create whiskers, use a toothpick and a few short stems from the cilantro. Pierce the egg in four spots with the toothpick, then place the stems in the hole. Add a bunny tail by putting half of a grape tomato on the opposite end of each bunny nose. Refrigerate until ready to serve.
In a medium bowl, combine hash browns, oil, 1/2 teaspoon salt, pepper and onion powder. Spread evenly on a baking sheet coated with cooking spray. Bake 15 minutes. Flip the hash browns and bake 15 minutes or until cooked through.
Remove the baskets from the muffin pan. Invert them to create a basket. Place enough hash browns in the basket to fill it about 2/3 full. Add an egg half to each basket. Serve immediately.
Recipe Courtesy of Chef Stacey,
ALDI Test Kitchen