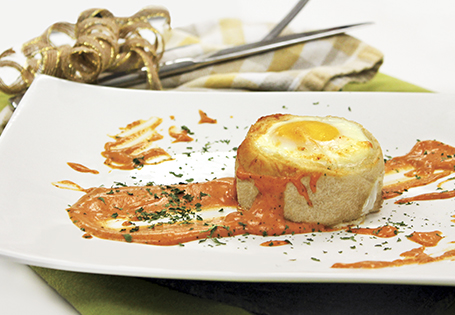 Easter Bunny Baskets
Sausage and egg inside a crusty French roll topped with spicy Bloody Mary sauce.
Directions:
For the bread baskets: In a medium bowl, combine yeast, water, salt, egg whites and flour. Mix until ingredients are well incorporated, transfer to a greased bowl, let rise 1 hour.
Preheat oven to 400°.
Place dough onto a floured surface, knead until smooth and firm. Divide into 12 4-ounce balls. Bake 7-10 minutes or until rolls begin to brown. Remove from oven, let cool.
Cut the top off of each roll and scoop out interior, leaving sides and bottom intact. Scoop 1-2 tablespoons of sausage into hollowed rolls; top with one whole egg. Bake until rolls are brown and egg reaches desired doneness, about 6-8 minutes for over easy.
For the sauce: In a medium bowl, combine tomato juice, vodka, Worcestershire or soy sauce, hot sauce, salt, pepper, chili powder, paprika and lemon juice. Stir until well combined; reserve.
Bring a medium pot of water to boil and reduce to simmer. In a large metal bowl, add egg yolks and oil. Whisk until combined and place over simmering water to create a double boiler. Whisk until mixture begins to thicken, about 2-3 minutes. Add reserved tomato juice mixture, whisk vigorously until mixture thickens again, about 5-9 minutes. Season to taste with hot sauce. Remove from heat, set aside.
To serve: Spread sauce on bottom of plate or serving dish. Place egg-filled bread basket on top of sauce. Drizzle remaining sauce on top of baskets if desired.
Recipe Courtesy of ALDI Test Kitchen