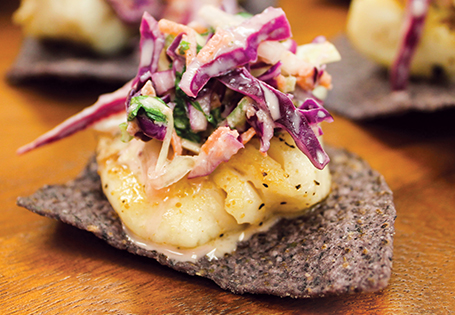 Mini Tilapia Bites
A gluten-free treat. Pan-seared tilapia on a blue corn chip with coleslaw.
Directions:
In a medium bowl, combine the coleslaw dressing ingredients. Add the red and green cabbage, carrots and cilantro. Toss thoroughly.
Season tilapia fillets with salt and pepper, to taste.
In a large nonstick pan, heat oil over medium-high heat. Add crushed red pepper, ginger and lime zest.
Pan sear each fillet 1-2 minutes per side.
Arrange tortilla chips on a large platter. Top each chip with a piece of tilapia and coleslaw. Serve immediately.
Recipe Courtesy of Chef Michelle,
ALDI Test Kitchen