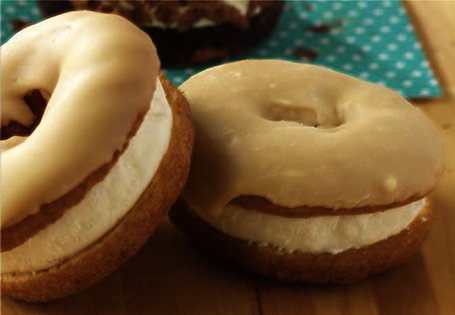 Maple Glazed Donut Ice Cream Sandwich
Directions:
For the donuts: In a small bowl, combine the water and dry yeast. Allow to sit for 5 minutes.
In a small bowl, combine the milk and shortening. Microwave for 3 minutes. Remove and stir until the shortening melts.
In a stand mixer with the paddle attachment, combine the milk and yeast mixtures at medium speed. Add the egg and sugars.
In a medium bowl, combine 4 cups flour, salt, cloves, nutmeg and cinnamon. Slowly add the flour mixture to the stand mixer until incorporated. Switch to the dough hook attachment and knead the dough for 5 minutes at medium speed until the dough pulls away from the sides.
Turn the dough out onto a floured surface and shape into a ball, using 2 tablespoons of flour. Coat a large bowl with cooking spray and place the dough inside. Wrap with plastic, and place in a warm spot for 1 1/2 hours to rise.
Punch the dough down, reshape into a ball onto a well-floured surface. Using a rolling pin, roll to a 1/2-inch thickness. Using a 2-inch biscuit cutter, cut 28 rounds. Place on a floured surface. If desired, cut and remove the center of each donut round using a 1/2-inch biscuit cutter. Cover and allow to rise for 30 minutes.
For the ice cream center: Slice the ice cream into 1/4-inch strips. Place on a parchment-lined baking sheet. Using a 2-inch biscuit cutter, cut 28 rounds. Freeze.
To fry the donuts: In a large saucepan, heat the 6 cups of oil to 320° over medium heat. Drop the donuts into the oil, flip once the bottom is light to golden brown. Remove once they are evenly fried on both sides. Place on a cooling rack.
For the glaze: In a small saucepan, heat the butter and maple syrup. Add the powdered sugar, whisk until smooth.
Dip one side of each donut into the glaze. Freeze for 10 minutes.
Once the glaze has solidified, slice each donut in half horizontally with a serrated knife. Fill with ice cream rounds and serve or freeze for future use. Remove from freezer 10-15 minutes prior to serving.
Recipe Courtesy of Chef Michelle, ALDI Test Kitchen