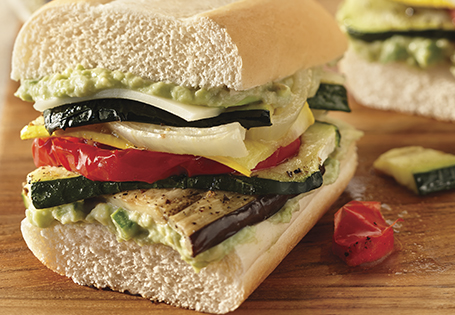 Roasted Vegetable and Provolone Sandwich
A quick meatless option for busy nights!
Directions:
Preheat oven to 400°.
Slice the vegetables lengthwise to ¼-inch thickness. Place on a baking pan and brush with olive oil. Season with salt and pepper to taste. Roast for 20 minutes.
In a small bowl, combine the avocado, yogurt, jalapeño, garlic and ½ teaspoon salt.
Spread each side of the roll with desired amount of mashed avocado mixture. Divide the vegetables between the sandwiches and top with cheese. Bake for 5 minutes.
TIP: Use a whole wheat roll or bread to increase the fiber and nutrients.

Recipe Courtesy of Chef Stacey, ALDI Test Kitchen