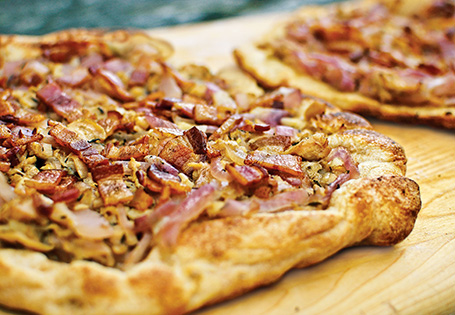 Caramelized Onion Tart with Swiss & Bacon
A great savory appetizer!
Directions:
Preheat oven to 400°.
In a medium frying pan, sauté bacon until crisp. Remove with a slotted spoon and drain on paper towels. Reserve. Add onions and cook until caramelized in appearance. Reserve.
Combine the vegetable oil and melted butter in a small bowl. Roll out the pie crust onto a baking sheet and brush on half of the butter mixture.
Sprinkle the pie crust with salt, pepper and Italian seasoning.
Spread Swiss cheese evenly over the crust, leaving a 3" border. Top with the chopped bacon and onions.
Fold the border over the filling to form a rustic edge.
Brush sides with remaining oil and butter, then sprinkle whole tart with 2 tablespoons Romano cheese.
Bake in the oven for 20-25 minutes or until golden brown and crisp.
Recipe Courtesy of ALDI Test Kitchen