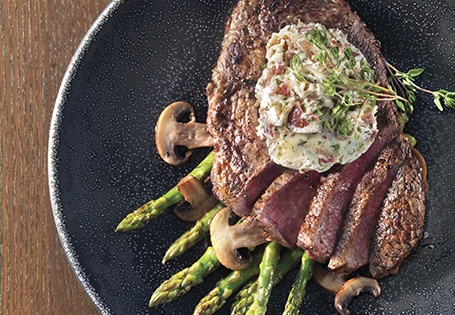 Roasted Garlic and Bacon Butter
Directions:
Preheat oven to 400°. Cut the end off garlic and place on a piece of foil. Pour oil over top and wrap tightly. Bake in oven for 30 minutes. Squeeze to remove cloves, reserve.
Meanwhile, in a large pan over medium heat, cook diced bacon until crispy, about 15 minutes. Drain on a paper towel. Reserve.
Using a mixer, beat butter until semi-smooth. Add roasted garlic, bacon, thyme, salt, pepper and parsley; thoroughly combine. Season to taste with salt and pepper.
Spoon mixture onto a sheet of plastic wrap. Roll into a log and wrap tightly. Refrigerate for 1 hour.
Slice butter when ready to use. Great for grilled steak, pasta and vegetables!
TIP: Butter can be stored in refrigerator for 6 days or frozen for up to 6 months. For easy use, slice butter before freezing.
Recipe Courtesy of Chef Alyssa, ALDI Test Kitchen